The Honda Accord is one of the most popular and recognizable cars of all time. The first-generation Accord was introduced in 1976 to compete against the Ford LTD Crown Victoria. This is a popular family sedan with a long history.
Starting in 1976, the first generation of Accord was built to meet the increased demand for fuel-efficient vehicles. This would set a precedent for future generations that followed this expansion. Keep reading to learn more about Honda Accord generations and how the brand has grown with the American market. If you want to browse different Accord models available, you can find it here.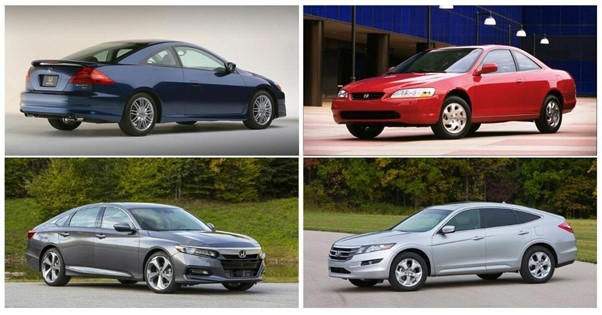 1st Generation Honda Accord
The first generation was introduced in 1976. It was designed to compete against the Ford LTD class of Crown Victoria. The 1st generation Accord was almost similar to Honda Civic with the same design terms. It was a 2-door hatchback with a 68 horsepower 1.6-liter four-cylinder engine. Only in 1979, Honda added a four-door body.
2nd Generation Honda Accord
The second generation Accord was first released in 1982. This new generation got its power from a four-cylinder engine which was fuel efficient, powerful, and provided 86 horsepower. It also came with additional features: like shag carpet, velour cabin trim, and chrome accents.
3rd Generation Honda Accord
The third generation originated in 1986 and ended in 1989. This model had various bodies like a 2-door coupe, 3-door hatchback, 3-door shooting-brake, and 4-door sedan. The vehicle had 1.6 L, 1.8 L, and 2.0 L engines that worked with 4-speed automatic or 5-speed manual transmissions. One of the most notable features of the 3rd generation of Honda Accord was hidden headlamps.
4th Generation Honda Accord
The exterior of the fourth-generation Accord got new changes, including rounded bumpers, headlights, integrated spoilers, and sharper lines. This model had a 130-horsepower 2-liter four-cylinder engine that was found in most of the vehicles from the mid-1990s to the early 2000s. Some changes included a sportier suspension, an updated exhaust powertrain, 15-inch wheels, and optional leather seats.
5th Generation Honda Accord
The fifth generation of the Honda Accord was released in 1993. This four-year model had a front-wheel-drive powertrain that used Honda's VTEC system. The engine was increased to 2.2 L and had a high output of 145 horsepower. This model had a sports appearance with special alloy wheels, independent suspension, and four-wheel disc brakes.
6th Generation Honda Accord
The sixth generation of the Honda Accord was released in 1997. This vehicle had a large exterior and featured the same look as the 5th generation model but with a modernized design. The internals also got an upgrade, including the engine that created a 135-horsepower 2.3-liter four-cylinder engine and a five-speed automatic transmission system. An updated engine also provided 200 horsepower with a 3.0-liter V6. This version also had standard features of anti-lock brakes, traction control, and airbags.
7th Generation Honda Accord
The seventh generation of Accord was released in 2003. This model had a sporty exterior with a rear spoiler and larger wheels. The interior of the vehicle was updated as well to give it a more modern look.
The sedan featured seating for five passengers plus two lumbar support seats for back support. This generation got various engines like the 2.4-liter inline-four engine that generated 160 horsepower and a six-speed manual transmission; the 3.0-liter V6 engine that produced 240 horsepower. This model can make 30 mpg in city driving and 37 mpg on the highway.
8th Generation Honda Accord
The eighth generation of the Honda Accord was released in 2008. For the first time, this model used a front-wheel drive powertrain with a performance-style suspension, giving it the feel of a rear-wheel drive. The vehicle had various engines, like 2.0 and 2.4 i-VTEC petrol (upped to 156 and 198 bhp, respectively). The vehicle also had an advanced braking system, was fuel-effectively, and was sold almost all over the world. It was a very popular model in Europe, the USA, Canada, Australia, New Zealand, Sri Lanka, India, Thailand, etc.
9th Generation Honda Accord
The 9th generation of the Honda Accord was released in 2013. This model had an updated powertrain and chassis that had better fuel efficiency, sporty appearance, and performance-oriented handling.
The vehicle has a 2.0-liter i-VTEC inline-four engine that produces 168 horsepower and a torque of 154 pounds feet. It also has an all-wheel drive system with active torque vectoring control that works with the Continuously Variable Transmission (CVT). This model had a high-grade cabin with leather seating surfaces, heated front seats, a steering wheel, information display screens, and so on.
10th Generation Honda Accord
Honda Accord Hybrid was released in 2008. It was the first hybrid model manufactured by Honda, and it ran on a 1.5-liter inline four-cylinder engine that produced 134 horsepower. This vehicle was a comfortable sedan with an aerodynamic profile and sharp edges and weighed approximately 3,100-3,400 pounds. This model had a six-speed manual or 10-speed Sequential SportShift automatic transmission with front-wheel drives like all previous models of the Honda Accord or Honda Civic. If you're looking for a used Honda accord, ask us.
11th Generation Honda Accord
Honda Accord Hybrid has many improvements due to its 11th generation. First, this model has a 1.5-liter engine that gives 160 horsepower and 118 lb-ft of torque. Second, the vehicle is 5% more fuel efficient (up by 5% over the previous generation).
Another improvement is a more modern look because the car's front end was altered, and it has a revised rear end with redesigned taillights. This model also comes with an updated infotainment system with a large display screen on the center console. Rolls Auto has a great variety of pre-owned certified vehicles available. You can easily find any car you need.
Conclusion
The Accord lineup of Honda vehicles has had a long history since the first model was made for the U.S. market in 1976. The basic shape and design have many changes for each generation since it was introduced as well as the engine power, weight, and performance has changed over time.
The Honda Accord has been sold in more than 100 countries around the world. In this article, we have presented main facts about Honda Accord's history, features, features and benefits; fuel efficiency, engines, driving characteristics; safety, and other factors. We hope that you enjoyed our article on Honda Accord's History.