Mercedes-Benz company has been teasing the new 2024 Mercedes-Benz E-Class for a few months now. Said to be in its final stages of development, we're getting a look at what this car will likely offer buyers around the world.
The enduring Mercedes-Benz E-Class is getting a major redesign for the next generation, with new engines and tech inside. The 2024 Mercedes-Benz E-Class will make its debut at the Frankfurt Motor Show, and we're expecting it to go on sale in the 2024 model year. We tried to find the most interesting things about the new Mercedes E-Class.
As we could know, the new generation E-Class vehicles will have only four-door sedans and five-door estates. No two-door coupe and cabriolet body styles are available for now. Instead, there will be the new CLE that will replace cabrio and coupes in both E-class and C-class.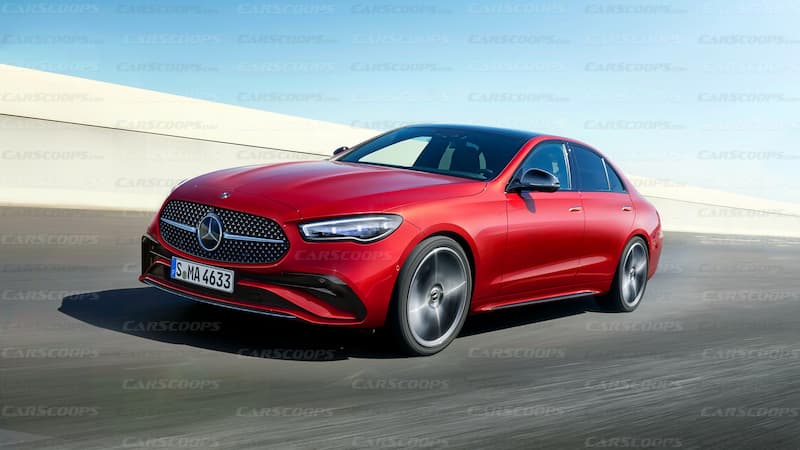 There is also will be a powered AMG version that will feature a large wheels diameter and a more aggressive body kit. Maybe additional features will also be available in this version.
Tech-Filled Cabin With S-Class Cues
Aside from the looks, the interior is where things get really interesting. The cabin is suitably premium with lots of high-quality materials, chrome accents, and soft lighting in different colors, and it's designed to appeal to a vast cross-section of customers. Most notably, Mercedes fitted a revised center console with a rotary controller inspired by the one found in the S-Class.
One of the most exciting changes in the 2024 Mercedes-Benz E-Class is the extensive use of new technology. The new model will be much more technologically advanced and feature a better infotainment system, with support for self-driving features.
For instance, the new technologically advanced entryway will have dual digital screens. Additionally, the new Mercedes E Wagon will be equipped with a fully digital instrument cluster that offers a huge screen resolution and features a 3D graphic representation of all information being displayed at any given time, thus providing a more smooth and natural reading experience. An enhanced touchscreen driver's display should also be part of the package on this model.
The new system comes with a touchpad that allows you to do numerous things, including adjusting settings and user preferences. The head-up display should also show the speed and mileage of all the systems on board, as well as the engine's performance.
Electrified Engine Range
The new E-class will be offered with both mild-hybrid and fully electric options. The minivan models of the new Mercedes E-class should be available with a choice of two different plug-in hybrid drive systems. These have a range extender that shouldn't be hard to guess, as it helps provide extra driving distance by using engine power to recharge batteries when they drain down.
The range extender is a small conventional engine you can find mounted on top of the electric motor. It won't drive the vehicle by itself but is reserved for operating only as an auxiliary power source, so it will still save some fuel.
It looks like the class leader will get a new hybrid powertrain. This will be offered alongside a plug-in hybrid system with a range-extender electric motor, which can be used in both roles. Mercedes is expected to use its nine-speed automatic transmission that works with three different power outputs for each model variant, which will offer a choice of 150 hp (112 kW) or 184 hp (138 kW).
The electrification of the vehicles will be a big part of the new model. Four powertrain options are expected for the new Mercedes E-Class: a plug-in hybrid (PHEV), a plug-in hybrid with mild-hybrid (PHEV/H), all-electric engine. We think the PHEV model will be available in two flavors: one that will feature a 3200cc engine and a 4000cc version.
The former is capable of generating 300bhp and driving up to 27 miles on electric-only, while the latter generates 300bhp and has a range of 50 miles on electric only. The PHEV model can also achieve zero emissions during acceleration or braking.
The Bottom Line
The new Mercedes-Benz E-Class will feature a 4-door sedan or a 5-door estate without cabrio and coupe. It will have an improved interior and technologies that should provide the driver with better safety options. The new model is expected to come in front of its future competition; therefore, it will be pretty important for Mercedes to create an attractive product that other automakers are willing to offer customers as it is happening today.
There are two main competitors on the market: BMW 5 Series and Audi A6. Both cars share many similarities, which means they can be customers for the new model Mercedes E-Class. The new Mercedes E-Class will likely be cheaper than competitors and should have better, safer dynamics than its rivals. This makes this class attractive to the company.
It looks like the production of the new Mercedes E-Class will most likely take place in Bremen, Germany, alongside S-class and S-class Coupe. Maybe, the show E-class will happen in other European countries. The car is expected to come in three different engine options, with at least one all-electric version as well.