Chrysler 300 has been a mainstay in the automotive industry for decades. This large car has an impressive history, creating many memorable moments for its owners and drivers.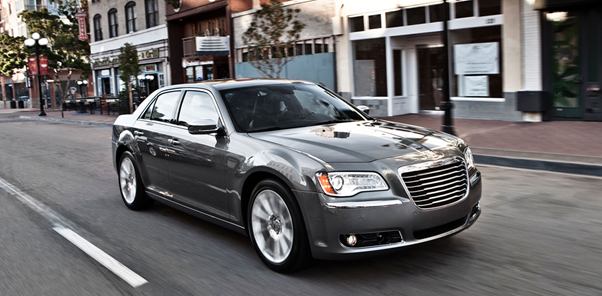 However, the value of this car is not as strong as it once was; some people say that it's not worth buying a used Chrysler 300 because of its old age and too many miles on it. Anyway, the Chrysler 300 is one of the beefiest cars out there. These best fuel economy cars will have plenty of power and room for your family.
A study by Motor Trend found the 300 was one of the Top 10 vehicles ever built. Its price point was also considered among the best in its class because of its extensive features and top-of-the-line status. Keep reading to learn if it is worth buying a used Chrysler 300 for your personal needs.
Used Chrysler 300: Pros And Cons
The used Chrysler 300 for sale has several generations. As the successor to the previous model, many features and more powerful engine options were added to enhance its performance, reliability, and beauty.
As with any used car, you are considering purchasing, there are some pros and cons you should consider before making your decision.
Lots of Room
The Chrysler 300 has seating for five passengers. There are plenty of storage compartments and cup holders to fit your personal belongings. This is a family car that can hold your friends and family comfortably while still being comfortable enough to drive.
This car also has room within the trunk area to fit that extra-long gym bag or luggage you may have come home with from college. Even with all the space, there is still a back seat so moms can feel comfortable when she needs to drive this big vehicle. It's not just about how many seats there are; it's about how comfortable you are as well.
Fuel Efficiency
The Chrysler 300 has a very spacious interior and plenty of power to go with it. The fuel efficiency is boosted by the V-6 engine used in this car. But different Chrysler 300 models have various engines that give you a lot of choices in terms of fuel efficiency.
The 3.6 Liter V6 engine gives you a very reasonable 17 MPG in the city and 25 MPG highway. When you want something stronger but with more torque, try the 5.7 Liter V8 engine that will give you 15 MPG in the city and 24 MPG on the highway – with plenty of power to go with it.
Power and Comfort
Just like today, Chrysler 300 was a car that most Americans had on their shopping lists. It's got double-pane window curtains to keep your family comfortable when you're traveling.
Another great feature is that the Chrysler 300 can handle large amounts of weight in your trunk area. Even if you have a lot to carry, it will still hold everything you need for the weekend trip so you can keep the kids happy and laughing on those long car rides.
You will be comfortable driving your Chrysler 300 around for hours without feeling worn out. With a smooth ride and minimal noise, you will enjoy the long drives you take across the country with your loved ones by your side.
Is Chryslers Expensive To Maintain?
When one thinks of a Chrysler, they think of great reliability. The Chrysler 300 has been a top choice for families and their drivers for years. This makes them an ideal used minivans to consider purchasing. If you're looking for a used car that's going to provide you with the same level of stability, look no further than the Chrysler 300.
Maintenance is an important part of owning a vehicle. The more you keep up with your regular maintenance, the longer your car will last. When you do need to do repairs on your Chrysler, there are plenty of affordable choices for parts and costs compared to other cars in this class.
Even when talking about things like parts costs and labor, the Chrysler 300 is still very reasonable for what you get out of it. There are special offers that can lower your overall costs, as well as reduce the amount you pay each year on insurance.
If you're looking for a car that is going to last for many years, one of the best choices available would be the Chrysler 300; it leaves a few issues behind after being driven for many miles due to its corrosion-resistant metal construction and durable parts.
Is Chrysler 300 Reliable?
The Chrysler 300 is a classic car that has been around for years. It's a car that many families have come to love because of its reliability and incredible running. The car's construction has been constructed around the idea of longevity, making it one of the best choices on the market without compromise.
The Chrysler 300 boasts a top-notch suspension to keep this large car stable. This gives you more confidence when you're driving, knowing that your ride is going to stay in line no matter what kind of road hazards you encounter on your trip. Even with all these great features, you still need to determine if this is the best used car for your family.
How Long Does Chrysler 300 Last?
The Chrysler 300 is one of the best-selling vehicles of all time. It has been around for years, and its longevity can be felt throughout every part of the car. For example, it has a five-star safety rating that was put out by the National Highway Traffic Safety Administration, which means this car is very safe for its drivers.
With these aspects in mind, it's easy to see why this car has stood the test of time and why many families have enjoyed driving them over the years. Its construction makes it more durable than many other available cars, another reason why people choose it in their family vehicles today. A conventional car can last for 200,000 miles. Some well-maintained car models will reach 300,000 or more miles in total.
What Makes Chrysler 300 A Good Used Car?
The Chrysler 300 has been around for years, and this makes it a very popular choice amongst many families. There are plenty of reasons why people choose this car, but here are a few key ones:
Safety: This car has offered security for your family with its five-star safety rating by the National Highway Traffic Safety Administration. This means that there are fewer accidents with fewer injuries than other vehicles in its class.
Longevity: The construction of a car has been built to last many miles of everyday driving. The parts are made with quality materials that can last much longer than most other models available on the market today.
Comfort: Chrysler 300 is a classic car that has been around for decades, and it shows in the amount of comfort that this car is able to provide its drivers and passengers. There are plenty of seating options, as well as plenty of space for larger items. This will allow you to take long trips without feeling confined in your car or having to sacrifice items because you don't have enough room.
Yearly Expenses: The yearly costs when you own one of these cars are much lower than most cars of today, even if you're a new driver or someone who doesn't know much about automobiles.
The Bottom Line
There are plenty of reasons why this car is a good choice when buying a used car. It's been around for decades and has been an incredible choice for families that might not have the financial means to purchase something new.
Many other choices can be made today, so do your research before purchasing and make sure you choose the right one. You can start your search for the best used car by searching on our website or doing a free quote request with us. The more information you have, especially when looking at what makes this model unique, the easier it is to find the right vehicle for you and your family.