Philadelphia drivers looking for an accessible, high-quality used car need look no further than Rolls Auto Sales. Equipped with a variety of sedans, coupes,
tow-ready trucks
, and SUV cars for sale, our dealership has just what you need.
To help stop the spread of Covid-19, Rolls Auto Sales is taking extreme measure to maintain a clean, healthy, and sanitary environment at our showrooms and in our vehicles. All vehicles will be sanitized and disinfected before delivery, whether you are doing curbside pickup or at home delivery. All staff are wearing masks and gloves and all high touch areas are being disinfected regularly.
Why Choose Rolls Auto Sales?
From luxury brands like BMW, Lexus, and Acura to more affordable options like a used Chevy, Nissan, or Toyota, Rolls Auto Sales has an option for you. As one of the best car dealerships near me in the Philadelphia area, you will have access to unique benefits like:
Helpful finance team that will help you every step of the way. With our easy in-house financing we can work with good and bad credit, and our easy-to-use payment calculator takes the guesswork out of your experience.
Peace of mind to all of our customers through extended warranties, which are crucial when purchasing a pre-owned vehicle
A wide range of makes, models, and styles, including cars, trucks, and wagons for sale, including used luxury vehicles.
We can also provide helpful car care tips such as how often you should change your oil.
If you have any other questions, such as "What's the difference between used and CPO", "What's the difference between a Coupe vs. Sedan",  or if you want to find out why we are one of the best used car dealer in Philly, take the trip to Rolls Auto Sales, or contact us online!
Used Card Dealer in Philadelphia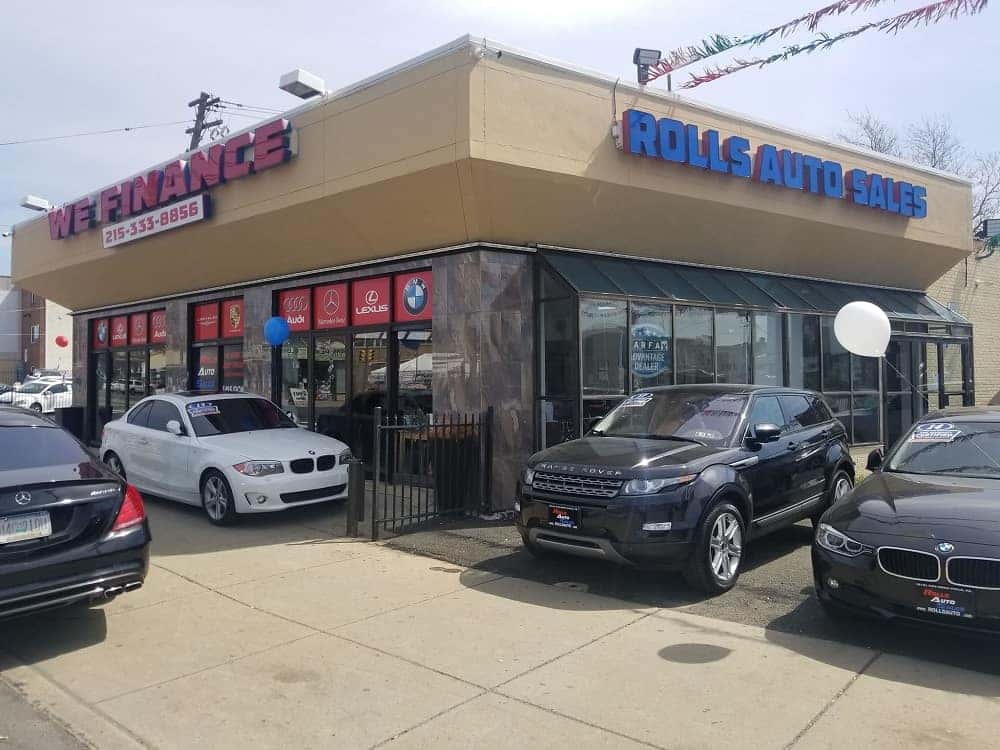 With three decades of experience under our belts, we at Rolls Auto Sales offer top-tier auto solutions to those looking for quality pre-owned vehicles. With our gentle guidance and unmatched knowledge, we breathe convenience into the car-buying process. Much like our expertise, our inventory is vast. Our merchandise runs the gamut from SUVs to minivans, and we carry best automobiles deals for used Audi cars and used BMW cars — and with all the benefits of buying a used BMW, Audi, or another luxury model.
Our vast selection of used car ensures a customizable experience for our clients. No matter your tastes or preferences, we have a car that'll suit your wants and needs. While the process is underway, you'll reap the benefits of our world-class customer service. Should you have any questions or concerns, our experts will be happy to assist. After all, our staff is as professional as they are insightful. If you reside in the Philadelphia area, make Rolls Auto Sales your go-to source for used car dealer.
We attribute our industry success to our well-oiled operations, and as we continue to blossom, we remain dedicated to client satisfaction. In fact, it's at the heart of what we do. We align interests with our clients in the hopes of delivering results that cater to their desires.
All Makes in Philadelphia, PA
Our glowing testimonials demonstrate how successful we've been on this front. Swing by our used car dealer today to shop an extensive line of top-notch cars.
Financing is one of the more stressful aspects of purchasing a vehicle. Fortunately, our financial experts work intimately with you to reach a viable solution. If you're worried about your bad credit score, don't fret. We have lending solutions for all. Best of all, our cost-effective alternatives bring our clients great peace of mind. Contact our team today to discuss your financial options.
At Rolls Auto Sales, we're a name you can trust. We promote transparency and honesty, and we don't use deceptive sales tactics. We intend to keep our customers informed all while keeping their best interests at heart. It's for this reason why we're touted as a reliable used car dealer. Our mission is simple: to get you behind the wheel of the used car of your dreams. We go to great lengths to fulfill this goal and stop at nothing to guarantee satisfaction.
If you're reluctant to come in, call or email us to speak with a representative, and they'll clear up any confusion you may have. While shopping for a vehicle, it's easy to get bogged down in the details. We help walk you through the process and, in turn, make the overall process hassle-free.
Between our preferred financing options and robust inventory, we at Rolls Auto Sales make matters easy. Give us a ring at (215) 333-8856 to get the ball rolling and find the used car you've been waiting for.